to ebs edith b. strebel fiduciary & administration services
Our philosophy is to provide you with committed and expert support for all of your business, human resources, tax and audit-related issues.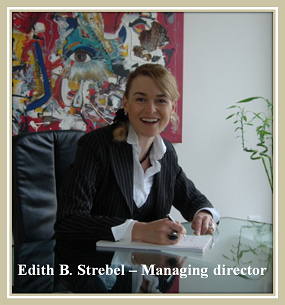 We give you professional and assured support and are committed to consistently defending your rights. You can rely on us to meet your needs.
We provide instant, reliable and high-quality tailored solutions and we are happy to offer you our individual services. Furthermore, we handle complex, specialised circumstances in an unbureaucratic manner and co-operate with experts to achieve constructive results.
During our 20 years in the business, we have gathered wide-ranging practical experience in all areas of trust services to build up a high-class network.
We have thorough knowledge of legal frameworks and use means and methods to achieve the best possible benefits for our customers. As an SME, our main focus is on small and medium-sized businesses. We provide them with practical, flexible and personal support, and accompany them on their way to success.
In this sense we would like to welcome you to our little jewel of a company. We look forward to meeting you in person…